2017 Haiti Magi Box Distribution
These gifts are a wonderful opportunity to share our blessings with others. We are still collecting for money donations. Information sheets are at Levy Central. Deadline for these donations is this Sunday, September 30. Please contact Danny or Karen Sullivan for details.
________________________
Mission Letter Archive
Belgian Breeze    3/25/2018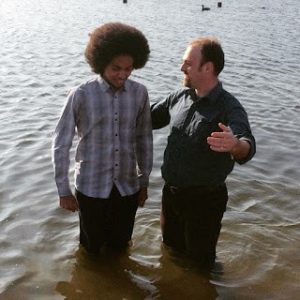 I would like to introduce you to a new brother. This young man has been attending church with the Ghent Flemish congregation since the beginning of last year. He name is Martino and he has lived in Uganda for most of his life.
A few months ago he expressed to me that he was interested in being baptised so we met a few times in our home and at a coffee shop to read scripture together with me and to discuss what this decision meant.
He picked one of the coldest days in February and with a crowd of Christians from the Ghent Flemish-speaking and Twi speaking congregation we heard Martino's confession and watched him be washed in the frigid waters of our local lake. As he came up the words "I have decided to follow Jesus" were sung as our new family member was wrapped in blankets and with hugs.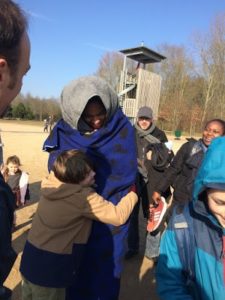 Please pray for this young man as he starts this journey with Christ. The enemy has his eyes fixed on him and we know it will not be easy. But he is free and in good Company. Please thank God with us for his mother Mary who as a single mother has done a wonderful job teaching her son about Christ, and has provided a good faith foundation that will help her son in his daily walk.
Luk and Holly Brazle
Mission Ghent, Belgium
________________________
Pulse Campus Ministry – UCA     3/18/2018
Midterm Recap
Throughout the semester we've continued to push deeper into scripture, prayer, and our relationships with one another.
We spent the first few Sunday mornings of the semester discussing prayer. Since mid-February we've been studying the Sermon on the Mount, and in April our students will be leading discussion groups in the middle school and high school classes.
In addition to our usual Sunday and Tuesday gatherings, here are some other activities we've engaged in:
Feb. 6 – We helped serve the evening meal at Bethlehem House. Bethlehem House is a local nonprofit that provides housing and assistance for people transitioning out of homelessness. It's a blessing to get to work alongside such an amazing ministry.
Feb. 23-25 – We traveled to Russellville, AR for CHRISTeens, an annual conference for middle school and high school students. We set up a booth to promote Pulse, and met several students coming to UCA next fall.
Prayer Needs
In a few days we'll leave for our Spring Break mission trip (March 16-20). We're partnering with the CCSC at Arkansas Tech and travelling to Orange, TX to aid in the rebuilding effort in areas affected by Hurricane Harvey.
Pray that our efforts will make a positive impact in this community, and that this trip would be a blessing to our students.
Once Spring Break is over, there will only be 6 more weeks left in the 2017-2018 school year. Though it seems like the year just started, it's almost over.
As summer approaches, I ask you to please pray for our ministry, that we would end the year well, and that the final weeks of our year would prepare us for success in the future.
Pray also that the Holy Spirit would continue to produce growth and maturity in our students in the coming weeks.
Things move slowly this time of year. It's a quiet season. Yet so much of ministry happens in quiet moments: quick conversations on campus, lunches, going for coffee. Spring is the perfect time to focus on the impact that can come through individual relationships.
Look for one more Prayer Update this semester, coming late April or early May. Until then, have a blessed week, and thanks for praying!
Corey Harrison
Campus Minister
________________________
Rio De Janeiro, Brazil     3/11/2018
Church Retreat
For those of you who may not know, Carnaval (the Brazilian equivalent to Mardi Gras) is a VERY big deal in Brazil, especially in the state of Rio de Janeiro. Everyone gets 3 days of vacation, and basically the people go wild. In light of this, many people who don't want to participate in Carnaval decide to travel and get away from the craziness. For the first time this year, our church decided to offer a church retreat during these vacation days. We found a small retreat site roughly an hour away from the church and we were able to spend time in worship and study together, and of course we spent a lot of time eating and playing together. This time spent together as a church family was really great for us, and we were so pleased to see relationships being strengthened during our time together.
Women's Ministry
Earlier in the month our Women's Ministry celebrated starting a new year together with a special brunch. While the food was definitely the highlight of our time together, we also spent time discussing our goals for the coming year, which include a daily Bible reading plan and monthly devotionals together, as well our annual retreat. It was so encouraging to see these women eager to sign up to help with various aspects of the ministry and to hear them excitedly talking about their plans for the year. Please be in prayer for this ministry and that we can reach out to even more women in our community.
Prayer Requests:
For our family's spiritual and physical health
For the development of leaders in the church
For our continued fundraising efforts
For continued growth of the church in Niterói
That construction of the new building will progress smoothly and in a timely manner
The Zinck Family
________________________
Mission Ghent, Belgium     2/25/2018
In January the Ghent Church of Christ organized a youth weekend that focused on God's Plan. The church hosted young people from 3 different churches hoping to encourage them in their faith. We had time to sing together, time to talk, play, do facials (there were a good number of girls) and go ice skating.
Church members joined the youth at the skating rink
The time that we read scripture together was very interesting. We talked about God's plan and I asked them what they did not like about the plan. What they might not like. They responded with questions like: What is up with Adam and Eve, who did their kids marry? Why is heaven a place we might even want to go; It seems like it is going to be super boring. – When Jesus comes back, is it going to be scary? How will everyone see? Won't it be sad that not everyone will go to heaven?
Discovering scripture together
It was clear that they had been thinking about these things so it was a good opportunity to talk about them. Please keep these teens in your prayers as their faith grows in a world that ridicules faith. Pray that they have the courage to look for the truth that God provides in a world that has trouble seeing things clearly.
Antwerp Youth Weekend Crew
Three weeks later the annual Console weekend was hosted by the Antwerp Church of Christ. This was the 13th year we had a weekend retreat where the teens bring their videogames to challenge each other in Fifa and Mario Cart. Time outs, and some outdoor activities gave us welcome breaks to the gaming. During the time outs we sat down to talk about how we can change our world. Jesus teaches us that there are a lot of ways that our lives can be changed but also shows how we can change the world we live in by being focused on him.
In video games you can be in control of a fictitious world. But when we read scripture we find these ways to change our world today. "Finally, brothers and sisters, whatever is true, whatever is noble, whatever is right, whatever is pure, whatever is lovely, whatever is admirable—if anything is excellent or praiseworthy—think about such things." and "But now you must also rid yourselves of all such things as these: anger, rage, malice, slander, and filthy language from your lips." We talked about how to do these things in our world today. It was a blessing to have a lot of the older kids there who the younger kids could look up to. How are you encouraging the young
people in your neighborhood?
Luk and Holly Brazle
________________________
Leipzig, Germany     2/18/2018
Before children can begin Schule (school), they must be evaluated by the government office. They are put through a series of tests, evaluating vision, hearing, attention/behavior, physical abilities and intelligence/reasoning skills. For foreign children this also includes an evaluation of their language understanding. At the end of the exam (about an hour and a half), the doctors there determine if your child needs any kind of therapy or extra preparation. They also decide if they should go into a special class or if they are ready to go into the regular Grundschule Klasse 1.
I have never seen such a thorough check of a child in my life! Aiden did SO well! We were so proud of him- and even more than proud- a little bit shocked! They began speaking in German and he looked at me with big nervous eyes and I said "Aiden you can do this, if you don't understand, Opa (who had come with us) can tell you what they said or you can answer in English." He took a deep breath, looked at the instructor and then proceeded to do the entire test in German! Up until that point he had been really shy to speak it in front of us, but his teachers always assured us that he spoke German at school.
Talk about an emotional day! Our baby just opened his mouth and another language came out! For us that was one of those God moments- where He so clearly says "I'm here and I've got this-DON'T WORRY!" Aiden will go right into the regular German 1st Grade class and we are confident that he will thrive there!
When we signed him up for Schule, the director gave us an invitation to attend a special class with some of the other new kids. The class is called Vorschule (before school) and they play games, practice things they will do next year and get to meet some of their classmates early. Aiden loves Vorschule and he gets to be picked up early from Kindergarten to go once a week. By the time Schule begins in August he will be nice and comfortable in his new place and Aria will have had time to adjust to him not being in her class anymore. Both of the kids are doing so well with the language and we are both proud and a little jealous of how easy it is for children to pick it up 🙂
We are so thankful for your prayers for our children. God is so good and faithful to take care of us and fill our lives with so many wonderful friends. We pray you feel his presence in your life as we have in ours.
Much Love,
The Nashes
________________________
Zambia Missions Newsletter 2/11/2018
There is much to report in this Newsletter. It also just feels like we are finally reaching our stride as certain key components now seem to be in place.
Daybreak Bible College: New Milestone
Due to the government ban on schools because of the cholera outbreak, the start of the new school year here at Daybreak Bible College was delayed two weeks. Our new class of students totals about 20 students. With this new class of students, Daybreak has finally passed a major milestone in our history. We are now (for the first time) a three-year training program. We now have 40 students plus their wives (who are part of the women's program). This brings our total number of students to more than 70. Also, starting this coming December, we will begin graduating a class of students each year from our Bible College. This is a goal that I have had for more than 8 years (to have a three-year program for married students and their wives). So, it is with great delight that we celebrate this new accomplishment.
Daybreak Student in the News
One of our students (Martin Kazembe) is a well-known singer in Zambia and has recorded several records (he sings Acapella which is quite popular in Zambia). He recently sang at the Kombani Radio Music Awards (held at the New Government Complex). Not only did he sing several songs (after which he was given a standing ovation), but he was given an award (CNN Monze Best Gospel Song Award).An article about Martin and the award he received was featured in the national newspaper, along with a picture of him receiving his award. The article states that he is "always preaching about salvation" and that he has temporarily stopped recording songs so that he can focus on his studies at Daybreak. The article goes on to say that he "is currently pursuing a three-year degree in pastoral and agricultural studies at the prestigious Daybreak Bible College." This is not the only time he has been featured in the national paper.
Kerin's Kids (Children's Ministry)
As we already announced on Facebook, Kerin is now expecting her second biological child. She is currently in her 25th week; but there have been some complications, and we are now trying to avoid any type of infection. Her pregnancy has basically become high risk and we are now working through a very critical phase. It is doubtful she will make it to full term, but we are hopeful she will make it to at least week 33 (which is the critical week). A premature delivery after week 33 has a much higher positive outcome. So, we would very much appreciate your prayers on behalf of Kerin during the next few weeks. We will post updates on Kerin's Kids Facebook page www.facebook.com/kerinskids.
Education Ministry
As previously reported, we have completed construction on three new classrooms. Now with the beginning of a new school year, we are increasing our enrollment. We expect to enroll more than 200 children for this next school year. Lorie has been quite busy reorganizing the school, hiring a new teacher (Bwale Miselo), and conducting some teacher training during the past few weeks. In fact, the delay in the beginning of the school year (due to cholera) has actually proven to be a blessing as Lorie has had more time to make these improvements.
David and Lorie French
Zambia Missions
________________________
South Africa 2/4/2018
Another year has come and gone. Our visit with churches, family and friends is making progress. Time is swiftly passing and we are beginning now to make plans to return to our beloved South Africa. Our hope and prayer is that life will not only be a blessing to you and your family but also will be a blessing to many others outside your own family.
I have often have said to our students at the Bible College in South Africa they should work andlive for the Lord in order to leave something behind after we are no longer here which will cause future generations to say, "he was here because I can see his/her footprints they have left behind."
It was Solomon who said, "In addition to being a wise man, the preacher also taught the people knowledge, and he pondered, searched out and arranged many proverbs. The preacher also sought delightful words and to write words of truth correctly." Then the wise man says to his son, "be warned; the making of many books are endless and weary to the body." Living a faithful and a life-changing life is not an easy task. It takes effort and it is at times weary!
It is our prayer that we all can help the present generation to live a productive and encouraging life-style. Solomon concludes his remarks by saying, "words of wise men are like goads, well-driven nails…." All the hard work of teaching and being helpful to others has a way of maintaining stability and helping others to endure life as it comes. IT IS WORTH ALL THE EFFORT!
Life passes all too fast! And our heath is not like it was a few years ago. Ann is still struggling and I have developed problems that is causing me to fall from time to time. I fell in the Johannesburg airport as we were leaving to return to the States and, then, the grocery shop once we arrived here in the States. But we are taking the words of Solomon seriously and are continuing to study and teach, both verbally and through the written word.
May you continue to maintain your faith regardless of the cost. FUTURE generations will be better because of how we all live in the PRESENT.
Please give my regards to everyone.
Jerry & Ann
The Hoggs of Africa
________________________
Yellow Jackets for Christ – Spearfish, South Dakota 1/28/2018
As we get started on 2018, here is a quick look back on the last couple of campus ministry events of 2017. We had a great December! It is really only half a month with the students due to finals and Christmas Break and all that, but we still packed some good things in there. We had some Bible studies, counseling time, a Christmas Party, and a few other odds and ends.
The thing that keeps standing out about December for me is how much our students want to study the Bible. Millennials tend to get a bad rap in the media for being lazy, entitled, and uninterested in God, but I'm telling you, that stereotype is just a stereotype. Our students continue to surprise me with their thirst for the Good News. Let me give you a couple of examples.
First, as the semester wound down, I started polling our group to see what they would like to study for the Spring semester. Since we just wrapped up a study on the Gospel of Mark, I thought we could do some nice light topical stuff. I said, "I have a great class on relationships and a great class on media. What do you want to study?" They thought about it awhile and came back with, "Can we study Romans, arguably the most theologically-dense book in the Bible?"
On another occasion, I was teaching a class about the resurrection of Jesus and I showed a clip from Lee Strobel's "The Case For Christ." I told the students I didn't have time in class to watch the whole 45 minute lesson, but I could play a 10 minute clip, so they decided to stay after our Bible study and watch the rest of it.
Once all the students left town, I put a lot of time and energy into planning our youth rally in February. We are going to be talking about Timothy Keller's book, "The Reason For God: Belief In An Age Of Skepticism." This is the most balanced, intelligent, and well-written case for the Christian faith that I have read in a long time and I'm looking forward to digging into it with our teens.
Silas Fitzsimmons
Campus Minister
________________________
Todachine Family Letter    1/21/2018
As we look back at 2017, we are humbled by the ways in which He has blessed us. God continues to bless the Salt River church both numerically, and spiritually, which is extremely exciting to be a part of. We look forward to His plan for our family and this congregation in an effort to reach our people with the gospel. Thank you for your part in all of this. May God bring us closer together this coming year in His service. God bless.
Now for a quick RECAP of 2017:
• There were 17 souls baptized into Christ
• There were 22 Christians and their children who were added to the body at Salt River this year. (That means there were 39 new faces!)
• There were 9 people who moved.
• The average attendance on Sundays has been 50- 60, while Wednesday attendance has been 35-40.
• God has opened the door for us to be the only teachers of Bible at Journey to Recovery rehabilitation center.
• We had a Spring Sing Campaign with about 30 teens & adults from the Graymere church of Christ in March.
• We had 23 people from Salt River attend church camp on the Navajo Reservation.
• We had a VBS with about 14 teens and adults from the League City & Frisco churches of Christ in July.
• We had a Fall campaign to the college campuses with 8 Bear Valley students in October.
Evan Todachine
Native Outreach
________________________
River City Ministry     1/14/2018
Happy New Year!
And thank you for your faithful support in partnering with our ministry at River City Ministry.  Your support is invaluable in the spreading of God's kingdom of love along the streets of Little Rock.
If you haven't been following my blog, look up https://reclaiminggodsimage.wordpress.com/ to follow what you're supporting. You can even subscribe to an email update whenever I post a new article. All of the articles are my reflections on my time as a minister here. Please share the news about the blog and our facebook page, https://www.facebook.com/RiverCityMinistry/, in your church bulletin, facebook page, website, or missions committee.
With God's love,
Taylor Brown
Apprentice Evangelist
________________________
Cumbernauld, Scotland     1/7/2018
At the beginning of November, a small group of Graham McDonald's supporters were stopping in to see us for the weekend on their way to Lithuania. They expressed a desire to be used while they were here so we quickly organised a Missions Emphasis Day. Unfortunately there was a British Bible School study weekend on at the same time so we just kept our event "in-house" so that we didn't take away from what they had already planned. It was, however, a great day.
I personally thoroughly enjoyed it with a variety of lessons and talks about different mission fields and different methods that may work in different parts of the world. We had several of our own members get up and talk about their experience in missions. All in all, it was actually quite inspiring and certainly, for me at least, served to re-focus our thoughts on what we are doing locally, nationally and internationally. A very encouraging weekend.
Last, but certainly not least, we had our fair share of fellowship opportunities as you would expect from us.
Firstly, some of the men traveled to Livingston for their Mens' Day. It was great to see them resurrect this event.
Graham was one of the speakers and was, in my opinion, the speaker for the day. In December, Nicole and Amy organised their, now traditional, Crazy Christmas Jumper (sweater) night. It was a great laugh. They always do a good job of organising something different each year. Shortly after that, Graham's two daughters, Megan and Bethany, organised our annual Secret Santa Party. Again, it was a lot of fun to see the "creativity" of some of the gifts.
Lastly, we ended the year with yet another great night together. What better way to see out the old year and usher in the new than with your brethren. Graham and I were assisted this year by Brian and Paulo for the activities. The women provided plenty of food and Paul Offin led us in devotion just before "the bells." We ended up getting home around 3 a.m.
Well, it has been a great year. Not without its difficulties and struggles (some of them serious and discouraging) but God has opened the storehouses of Heaven and blessed beyond our imagination. We look forward forward to what He has in store for 2018. We are so glad His blessings transcend the miles between us. He has drawn us together through the cross and blessed us together through the church. Thank you again for staying with us. The best is yet to come.
All for Him,
Adam, Mel and Nicole Barr
________________________
Letters from Belgium 9/25/2016
We recently heard from Luk and Holly Brazle, missionaries to Ghent, Belgium.
"The Ghent church has enjoyed an active summer. 22 of the group were able to go on a retreat together, taking some time away to pray and study together. Several events were organized by church members this summer where they had the opportunity to interact with our English class students. A barbecue in the park, a walk through the city, a build your own pizza night, and a game night all provided opportunities to get to know each other. Also, four members of the Ghent church met together to pray, discuss and plan on how to pay for a new meeting place. After visiting three possible meeting places it became clear that the church will have to do some fund raising. Please pray as the church continues to search for a suitable meeting place.
September is a month of planning, starting up weekly Bible studies, the men's retreat, and even a camping trip for Luk to Scotland with some friends. Luk has been publicizing classes that invite people to practice their Flemish using scripture. This targets largely immigrant and refugee populations in Ghent. Please keep this in your prayers since nothing like this has been tried in Ghent. Pray for open hearts to the classes and to the message they will be hearing through scripture. The Brazles are able to do what they do because of the generous donations of people like you. Thank you for your continued prayers and financial gifts."
Heather Sutherlin
________________________
Roszels on the Road 9/11/2016
Thursday morning we said goodbye to some new friends who've been with us all summer here at Levy. Richard and Holli Roszel with their two children, Eli and Lily, are returning to China to continue their work among students there. As English teachers, they minister to students in a private school where local families want their children to learn English so that they have more job opportunities and better pay. Richard and Holli are joining an established home church there where they will worship under the radar of the government who tightly controls religious freedoms. The Roszels will be risking their jobs, and to some extent their safety, as they seize every opportunity to teach students and neighbors about Christ. Please join us in praying for this sweet family and their work in China.
Prayer Requests:
Safe travel, and all luggage arriving undamaged
Peace and calm as they all reaclimate to China, especially for the children
New contacts and open doors as they meet new neighbors, students, and coworkers
Health and wellness in the year to come
Courage to be bold as they live for Christ in their community
Heather Sutherlin
________________________
Guatemala Future Preachers' Camp 9/4/2016
On June 19-26, 41 campers representing 14 congregations from various parts of Guatemala came to be part of our third annual Future Preachers' Camp (FPC). Many of them came from Guatemala City area, but we also had quite a few that traveled significant distances to be a part of the event. FPC 2016 was held again at Camp Caleb in San Lucas, just outside the capital city. This year we studiedthe books of 1 & 2 Timothy and Titus. This year nine young men expressed their desire to be baptized into Christ! We thank God that He has allowed the camp to play a part in the coversion of these souls to the glory of God, souls who also went home excited to serve in their local churches.
Please keep all the young men who have attended our camps in your prayers. Pray that they will mature, serve and develop into future preachers of the Gospel of Christ.
God bless you!
Hawatthia, Byron and Snezana
________________________
Encouraging Japan 8/21/2016
Every year, Jon Albright's parents, Dwight and Josephine Albright, travel to Japan. Once full time missionaries in the Asian country, they now spend several months every year on an extensive tour of villages and cities in an effort to minister to and encourage the churches there. From Sunday sermons to private studies, this dynamic partnership will carry the word of God with them into homes and churches across Japan.
"We are excited to have the opportunity each year to go," writes Dwight. "Each trip is a bit different and this one is no exception. Hebrews, Lord's Supper, Job, following Christ' example, problem of suffering, original sin, love are a few of the topics I will be covering. Josephine will begin her classes a week from today. She is going to be teaching out of John."
Please join us as we pray for their journey. May the Lord give them safety, willing and eager students, open doors, and divine opportunities.
– Heather Sutherlin
________________________
School Starts Soon: Bringing Jesus to College 8/14/2016
Across the country students will soon be returning to our college campuses and when they arrive, the church of Christ campus ministries will be there to welcome them with open arms. We've been hearing from several of the ministries that we support through Harvest Sunday funds and they are all eager to share the hope of Christ with this year's students. It starts with free dinners to welcome new students back to campus, followed by fun social events to help them make new friends, and leads into a year of Bible studies and fellowship with kids who are searching for answers in this difficult phase of life.
According to Campus For Christ, there are more than 20 million students enrolled in American colleges this year, an increase of nearly 5 million since 2000. This is an incredible mission opportunity, a chance to introduce students to Christ during the most transformative season of their lives. And yet, we only have 125 active campus ministries in the church of Christ. That means we're only attempting to reach students on 125 campuses out of the nearly 5000 American colleges across the country.
Please pray for our campus ministers as they speak into the lives of our young people, that they may be gifted wisdom, patience, and a supernatural ability to speak the truth of God with a courage and boldness that both encourages and convicts the hearts of those who hear it. Pray for our students as they begin another year and join us in lifting up these ministries:
• Wolf Life – Arkansas State University
• CCSC – Arkansas Tech University
• Yellow Jackets for Christ – Black Hills State University, South Dakota
Heather Sutherlin
________________________
<align="left">Zambia Newsletter – July 2016 8/7/2016</align="left">
Student Agriculture
Our students have now successfully planted their gardens (digging raised beds and installing drip- irrigation systems) and they have now successfully raised two batches of chickens (200 chickens for every 5 students). Several of the students have responded with much joy and surprise as few of them thought they could ever learn to do such things. As one student recently commented, "I never thought I'd ever learn to raise chickens and earn a profit."
Our agriculture teacher, Francis, is doing an awesome job teaching the students how to be self-supporting in ministry. I'll try to explain in the next newsletter why this is so important for the growth of the church in Zambia. This month we will terminate the stipend we give the students for 3 months as they are now self-supporting.
Julie Watson
________________________
A Prayerful Step 7/31/2016
Jhonny came to Manna Christian School by the grace of God and it has been amazing to see it unfold, bit by bit. From a freshmen in my Math class, I connected quickly to this kid who had a top notch smile, competitive attitude and desire to learn. Three years later he has made the decision to commit his life to the Lord and walk with Him daily. Jhonny and I have prayed, cried, laughed, and studied throughout our time. He has shared some of life's hard times and I've shared the little wisdom that I have to offer. He was very interested in learning more about a Christian life, about God, and how to apply the Bible to life. He entered MCS not a fan of Christians because he had met many people who claimed to be Christians, but their lives didn't match their mouth. He said because of hypocrisy, he didn't really like to be around Christians (funny how he ended up around us at Manna???)
Through the next three years, our studies, prayers, talks, and experiences, he continued to take steps. A few months ago we studied the parable of the Good Shepherd. I asked him where he saw himself in the story and where he was a sheep. He replied, "I am at the gate. I know I don't want to go back to where I was, but I still must enter through the door." With much prayer and a decision that only he could make, Jhonny decided to enter into that door, taking his next step, and to commit his life to the Lord and live under the grace of the Father.
As a friend, teacher, discipler, and brother I couldn't be prouder of the decision he has made. Please pray for Jhonny as he continues his daily journey to be a follower of Christ. Pray that he submit to the Spirit of God to guide his life. And please pray for me to help instruct him in the way of the Lord as a discipler. – Jeff Reese, Dominican Republic
________________________
Update: Russian Religious Law  7/17/2016
Last week I shared some prayer requests with you from the Russian church. One very serious concern was the pending decision about Russia's religious freedom. Unfortunately, I have a sad update to report. This week, Russian president Vladimir Putin approved laws that usher in tighter restrictions on missionary activity and evangelism. Originally designed to fight terrorism and the spread of Islam in Russia, the laws will seriously inhibit the effective teaching of God's word throughout the nation.
Christianity Today summarizes it well.  "Despite prayers and protests from religious leaders and human rights advocates, the Kremlin announced Putin's approval yesterday. The amendments, including laws against sharing faith in homes, online, or anywhere but recognized church buildings, go into effect July 20."
Please pray for our brothers and sisters in Russia. Missionaries and ministers will be scrambling to find creative solutions to avoid penalties as the share the gospel locally. Join us in praying that this series of laws will be repealed to allow for more freedom and safety for the Lord's church.
________________________
Prayer Requests from Russia  7/10/2016
Sergey Subbotin has been a Russian Bible School student by email correspondence since March 18, 2016. He is from Zlatoust. Because of his study, he decided to be baptized and was immersed into Christ in June. Please, pray for his further spiritual growth.
Anna Uporova is a student in the Institute of Theology and Christian Ministry. She moved from Moscow to St.Petersburg because she wanted to become part of the Neva church of Christ. She became actively involved in the Youth ministry of our congregation, but experiences problems of being adjusted in St.Petersburg. Please pray the Lord to help her to find a suitable job.
Sergey Zabrutskiy is a minister in Sevastopol', Crimea. His congregation was officially recognized by the Ukrainian Government. After Crimea became part of Russia, the congregation lost its Ukrainian registration and now it's in a process of getting official recognition with the Government of Russia. It's a very long and difficult process. Please pray God to give brethren perseverance.
This month we also ask you to pray for the situation with religious freedom in Russia. On June 24 the Duma of Russian Federation rapidly and almost unanimously approved changes to anti-terrorism law. In some parts of it, it deals with evangelistic activity of religious organizations. Many Russian lawyers interpret this law as a step away from religious freedom. These changes have been already approved by the upper house, and in the Federation Council. The president of Russia will make decision either to sign the law or send it back to the Duma for additional polishing.
Please join us in lifting up our brothers and sisters in Russia, that the Lord may bless his people for the glory of his name.
________________________
Saving Mozambique  7/3/2016
The church is growing exponentially in Mozambique this year as the missionary teams there are seeing a harvest after 15 long years of diligent work. During a recent drought, the teams negotiated for food supplies to be delivered to their compound where they redistributed the food weekly to the poorest and those who were too elderly or ill to care for themselves. Not willing to lose an opportunity, they spoke the Word of God at the weekly distributions, turning them into a time of teaching and worship. Each week, the numbers arriving at the compound grew, until their weekly meetings held well over a hundred people at a time. But even after the food ran out and the danger had passed, the villagers came. Doors were opened in town after town, inviting the church to come in and teach. The church grew. One by one they came to the Lord, finding not only food for their bodies, but the bread of life. Earlier this month, in a moment reminiscent of the work of the apostles, an incredible 110 souls were saved as the ministers baptized entire families into Christ. Gathered on the banks of a muddy river in the middle of the African bush, Chad Westerholm, Jeremy Smith, and a team of other local ministers they've trained stood waist deep in the water and immersed villager after villager, raising them up to new life. Praise the Lord God of heaven who hears our prayers and leads the lost to salvation. Please join us in praying for the church in Mozambique, for growth in numbers, but also in maturity as our new brothers and sisters in Christ begin to live for Him.
________________________
Day of Prayer for the Muslim World  6/26/2016
July 5th marks the last day of Ramadan, a season of fasting and prayer for Muslims around the world. There are an estimated 1.5 billion Muslims in the world; nearly one-fourth of the world's population today. Over fifty countries have Muslim-majority populations, while other groups of believers are clustered in minority communities on nearly every continent.
Since 1993, Christians have been gathering for thirty days, the entire span of Ramadan, to pray intently for our Muslim neighbors, that God would turn their hearts and open doors for the reconciliation of Christ. This year, we've been asked to join our brothers and sisters in prayer as we cry out with one voice to God on July 5th. The goal is for 100,000 christians to pray on that day for Muslims.
Please mark your calendars and set aside time to lift them up to the Lord. May His Name be glorified as we pray together for the power of Christ and His Holy Spirit to move among the Islamic people.
________________________
Harvest Funds Report  6/19/2016
The missions committee felt it would be a good time to report on how Harvest funds are being distributed. The follow numbers are an analysis of the November 2014 to October 2015 'Harvest Year'. The following graph shows the proportions of total funds sent to the different missions categories.
Levy has gained a good reputation among God's workers as being generous towards missionary efforts. As such, we have seen a steady increase of requests. Particularly the number of short term trip requests have increased. In this current 'Harvest Year', as again the number of requests have increased, we have decreased the amount of funds that we give to each request. No long term missionary started without some exposure to the mission field. This initial exposure generally comes from going on a short term mission trip. We would love to continue to support each trip as we had in the past, but with increasing requests and limited funds we were forced to cut back our support per trip. The cuts are NOT reflected in the graph above, they came in the following year and will show up in next year's report.
What Levy offers to our long term missionaries is much more than financial support. Most Wednesday nights the missions committee runs long because we are enthralled with the challenges and opportunities that our full time missionaries face on the front lines of the spiritual battle. We do our best to take care of their financial needs and wish that we could do more.
The dollar amount for Levy Mission Trips has increased in recent years. It is the missions committee's objective that no Levy member will be deprived of going to the mission field due to lack of funds.
Missionary Institutions include Eastern European Missions, who send Bibles in the native languages, as well as Baxter Institute, Bear Valley, and 21st Century Global which are educating missionaries.
Campus Ministry and Inner City Ministries are the most effective domestic mission fields. There is a short time in life where humans leave their parents' home and are ready to experience the world when they go off to college. Levy is proud to support the efforts of our campus ministries as they attempt to maximize on that time in life to reach the lost souls with the message of a loving savior.
We are blessed to be able to support so many solid inner city missions efforts in our area. River City and Silver City have been in place long enough now that they are affecting the next generation. The longevity of these efforts increases their effectiveness.
There is more to be said than can be captured here. If you would like further clarification, please feel free to talk with anyone on the missions committee or e-mail us at missions@LevyChurch.com.
Julie Watson
________________________
Prayers for Missionaries  6/12/2016
This week we've had several heartbreaking requests for prayer from our missionaries across the world. Please remember Larry and Connie Zinck in your prayers as they mourn the sudden death of their son, Daniel on his 34th birthday. Also lift up our sister in Christ Ann Hogg as she faces some scary and unexpected health issues. The Hoggs had planned to return to South Africa this summer after a visit home, but have been forced to delay their return as they seek answers and healing for Ann.
________________________
Pray for Belgium  6/5/2016
The church in Ghent, Belgium has asked us to join them in prayer as they praise God for the progress He's accomplished there and request His help in ministering to the people of Belgium.
PRAISE:
– The Ghent church has had two church meetings where we have been able to discuss priorities, brainstorm, and pray together. It is great to have input from many. Pray that we can use these meetings wisely.
– The Ghent church plans to host connect events with church members and study contacts as social gatherings so relationships build between these two groups. We plan to have 6 events this summer organized by church members.
– English classes continue with Herman, Martine, Bo, Rambo, Guido, Theresa, and Yinghao.
– The group in Ghent shares the load preaching, teaching kids, and preparing food. This is a blessing.
– The Bible camp had a work camp for 4 days getting it ready for the summer. 29 volunteers came to help.
– Holly continues to build relationships while volunteering at Gideon and Isaak's school.
– 30 teens have been invited to the Teen camp (12-14 year olds) this summer that Luk and Holly are working at. Please pray for a good turnout.
– Our relationships with a muslim family in our street has progressed. Holly has done some sewing for them, and they have baked some wonderful food for us. Pray as they start Ramadan soon that we can find opportunities to share Jesus with them.
PRAYER NEEDS:
– Pray for time. Balancing time with work, family, and home renovations is a chore. Pray for wisdom, and that we take sabbath seriously.
– Pray for couple at church that started coming last year from Greece. They are having trouble communicating with each other. Pray for wisdom and peace as we try to help.
– Pray as the church grows. We are evaluating our finances as a church to see how much we can spend on renting/buying a church.
– Pray as we prepare for Bible camps in July and August, and a lectureship in Lancaster England at the end of August.
– Pray for the young people in the churches in Belgium and The Netherlands as they grow in their faith.
________________________
FROM THE MISSIONS COMMITTEE:  5/29/2016
Would you join us in prayer as we cry out to God on behalf of the Muslim world? In the past 15 years, there have been 69 movements of Muslim peoples to Jesus – that represents thousands of Muslim people coming to Christ! God is doing something! Beginning June 6th, we are calling thousands of believers to pray for 30 days during the Muslim holy month of Ramadan. Concluding on July 5th, it is our hope that 100,000 people from all over the world will pray that day on behalf of the Muslim people who live around the Mediterranean rim. It will be a momentous day! If interested, please visit us at http://MRNet.org or email missions@MRNet.org.
________________________
Pray for the church in Dunedin  5/22/2016
Please join us in praying for our brothers and sisters in Dunedin, New Zealand. They have asked us to remember the folowing requests to our Lord:
– Work on the Building – thanks for the right people, for those advising us on work
– Praise and Thanks – for the opportunity to have our building used to help our local community. May we use this opportunity to show Christ's love to our community.
– Sick and Unwell – Sonya & ongoing health struggles, Barry Raine, Aaron's cousin Jan, Raymond, Maureen
– People we meet, interact with and influence in our community, at work, at school
– Nick, Marisa and Leah as they use CEC in our community to reach out, may this grow into ways for our congregation to reach out. May God protect this ministry.
– Friendspeak ministry, the blessing and the growth we have seen this year
– Upcoming Local Body elections in October
May we encourage the less involved to join in and be involved.
________________________
Instituto Teológico Latinoamericano 5/8/2016
Last month the ITL in Guatemala celebrated their 7th Annual ITL Lectureship. The theme this year was Practical Christian Living: A Study of the Book of James. The event turned out to be a wonderful time of study and edification. There were 12 speakers from countries throughout Latin America as well as the United States. The attendance on Saturday was very good. At least 15 churches were represented throughout the weekend. Some, not including the invited speakers, traveled as far as Chiapas, Mexico and from one of the borders of Guatemala, about eight hours away. There were also people there from other departments and from several congregations in the Guatemala City area. They averaged about 250 in attendance as people came and went throughout the day, but the total number of people easily surpassed 300. On Sunday they had a full house for the conclusion of the lectureship. At the end of worship, there were six responses to the message. There was one final Bible class before the event came to a close. Then, everyone enjoyed lunch together. In all, it was a memorable weekend and a testament to the hard work of the ITL team throughout the years as they work to spread the gospel in Latin America and unite the churches of Christ across national borders.
Please join us in praying for the team in Guatemala and for all those who are preaching and teaching throughout the region, that they may be emboldened to share the good news. May their efforts be blessed.
________________________
Praying for Boldness  4/24/2016
"Pray also for me, that whenever I speak, words may be given me so that I will fearlessly make known the mystery of the gospel…" Ephesians 6:19
Each week the missions committee at Levy begins their work with a prayer for those we serve. This week we prayed for ministers in nations that are not always safe or easy to reach for the gospel of Christ including China, Cuba, Russia, and Japan. For example, did you know the laws in China still make it illegal to openly teach about Jesus in most contexts? Missionaries there risk imprisonment and persecution to teach their neighbors, colleagues, and students about the love of Christ.
Please join us in praying for the missionaries, ministers, and church members who serve around the world, carrying the good news of hope into dark abandoned places. Pray that they may be empowered, emboldened, and protected as they carry Christ into neighborhoods for the salvation of the world.
________________________
A New Minister in Guatemala  4/17/2016
The church in Guatemala has been steadily growing over the last decade under the faithful care of missionaries who have committed to the work. In Linda Vista, the Bible Institute has grown to the point that it is consuming the full attention of the ministers working there. This led to a very exciting milestone last month as the church in Linda Vista decided to hire a full time minister from among their ITL graduates. Walter Dardon and his wife Nohelis have accepted the position of full time evangelist in Linda Vista, freeing up the previous minister, Anibal Ramirez to dedicate himself more fully to the work of ITL.
Please join us in praying for the Dardon family and the church in Linda Vista as they adjust to this transition, that the Lord may bless their growth for his glory. We're excited to see the hope of Christ shared in Guatemala.
________________________
Reaching Dominican Youth for Christ  4/10/2016
We recently heard from Hope Mayberry, a high school teacher at the Manna Global Ministries Christian school in the Dominican Republic. She had a lot of good news to share with us! Three students were baptized, including one sophomore and two seniors. What an incredible blessing that is to see these young people come to know Christ. It is an encouragement to their classmates and teachers as well. Please join us in praying for these new believers, that they may be protected by God himself as they step out into new life and that they may be shining examples to the community around them, to their families and friends as they share the good news of God's saving grace.
Hope has asked us to pray for a few other students she's concerned about this week.
Yariza – that she can stay focused on the important things in life.
Jenifer – that she can remain a positive leader in her class
Wilmide – that she can find peace in God during difficult times at home.
Honestly, these are prayers we could pray for many of our own students here at Levy. Please lift up God's children in prayer, and those who minister to their hearts and minds every day.
________________________
Daybreak in Zambia   4/3/2016
There is incredible work being done in Zambia through the Daybreak Bible School. What began as a two year ministry training school in Mapepe has grown since 2005 to include a three year degree program that is equipping local Zambians to carry the gospel back to their own people. The missionaries working there discovered that married students were more likely to be effective in the long-term work of ministry, but few married men could afford to be away from their families for two or three years to study. So, they reorganized the entire school to accommodate them, deciding to focus on providing a place to develop entire families into ministers rather than just men. This required a lot of work, but has already had ripple effects in the community.
To house married men who may have children required more housing than the dorm they had used before for a group of single men. So, they hired construction workers to build new housing. This employed local men who needed work. Then, they considered that families moving to the school would have children who needed education. So, a school was built and teachers hired and trained. Now there are 55 local students already attending the elementary school before the families even show up for classes this spring. With all the families coming for the Daybreak Bible School, they would need more food available for meals. So, they built a farm and decided to teach the ministry students not only how to teach the Bible, but how to be more effective farmers so that they can carry those skills back home as they go out into the communities. The students will farm their own food and the excess will be sold at market in Mapepe. Already a crop of soybeans and 500 chicks have been sold, granting funds for replanting and good resources for their neighbors. So, before the ministry students even arrive, the community has already been blessed by the work there. To learn more about the work being done at Daybreak, visit Zambiamissions.org and join us in praying for the work there, for the missionaries, the instructors, and the students who will arrive next week to begin the work of God's ministry to Zambia.
________________________
Reaching a New Generation in Perth  3/27/2016
Scott Tominey began his work last year in the mission field as minister to a brand new church plant in Perth, Scotland. Perth is in Northern Scotland area where the church has been steadily declining since the 70s. His desire is to see many come to Christ who have not grown up knowing him, and for those who are older to return to the Lord. As a man in his twenties, he's decided to begin by ministering to youth. So, with that in mind, he began an after school club near their church meeting place. Each afternoon, they start with Bible classes divided by age group and then end with an hour of games. This has been very effective with an average attendance between 25 and 30 students arriving every day. In the last few months, a few of those students have even begun attending church services on Sundays. What an encouragement that has been not only to Scott, but to the growing church there in Perth.
This church is looking for other Christian families to move into the area and join them in their work as they seek to reach the lost. Please join us in praying for Scott, for the church in Perth, and for the people of Scotland. Let us all ask the Lord to send out his workers into the field that the world may know HIM and his love.
________________________
Student Missions  2/28/2016
Each year Levy harvest funds contribute to the work of dozens of students who travel over spring or summer break to serve missionaries around the world. These trips, dubbed "short-term missions", allow students to experience the life of full time mission work first hand while immersing them in a foreign culture. While spring break trips are typically a week long, most summer trips last between three and six weeks, offering extended opportunities to experience life overseas as a missionary. This year Levy is supporting a long list of students who are travelling to many countries where missionaries are already hard at work teaching the gospel. Please join us in praying for the work being done in these countries and many more:
• Cap-Haitian, Haiti
• Taipei, Taiwan
• Leipzig, Germany
• French speaking Europe
• Montepuez, Mozambique
• New Zealand
• Fiji
• Szolnok, Hungary
• Huambo, Angola
• Tasmania
• Vanuatu
• Zurich, Switzerland
• Czech Republic
________________________
Zambian Creativity  2/7/2016
Missionaries in Zambia have been very creative in their pursuit of the best way to lead their country to Christ. Several years ago they realized they could reach many more for Christ if there were more teachers and ministers to share in the work. So, they began a Bible college. They soon realized that the students who were best equipped for the work were families who could reach entire villages, but it didn't seem right to ask married men to leave their families without a protector or provider for the months it would take them to study.
So, they restructured their entire program. They built new housing that would accommodate entire families. Then, they realized that those families would need food and they are leaving behind their farms to study. So, they designed a farm where students could grow their own food. This made it possible for them to teach new farming methods that the families could carry back with them to their villages, improving the lives of thousands.
All of this was good and then they realized the families would have children and children need school. The closest school was six miles away. That's a long walk for young children! So, they began building a school. Then, they decided to train the wives to be school teachers and teach the husbands how to start a school in their community. This is an automatic open door for ministry in each village and a way to improve the lives of families across the country.
As the ministry grows, so does the resourcefulness of the missionaries who are faithful in this great work. Please pray for Zambia, for the students of the Daybreak Bible College, and the French Family who have committed themselves to sharing the good news with Zambia, no matter the cost.
________________________
Campus Ministry is a Fertile Field  1/31/2016
There is exciting work being done on college campuses across America and a group of church of Christ campus ministers are leading the way. They're convinced that the most fertile mission field in the world is right here on American college campuses. Here are a few reasons why:
• 95% of the people who follow Jesus begin before the age of 30.
• 21,000,000 college students live in the U.S.
• 886,052 international students attended school in the U.S. last year
• 1/4 of the world's college students reside in North America
• Only 125 campus ministries exist connected to the church of Christ
Author Pete Greig wrote in his book, Red Moon Rising, that, "God uses young people again and again to help restore nations and shape their destiny. It's not a hope statement or what Dietrich Bonhoeffer might have called 'a wish dream'. It's the inescapable reality of the witness of history. Young people stand at the heart of the salvation story."
We're proud to be partnering with campus ministers here in Arkansas and across the United States as they work to minister to the hearts and minds of today's youth. The stories we here from them are beautiful and inspire us to do all we can to reach the young people the Lord has sent to us so that they may know Christ in all things. Please join us in praying for campus ministry and this growing mission field.
________________________
The Gospel at Work in Haiti  1/24/2016
We recently heard from the director of the preacher training school in Port au Prince, Haiti. He was eager to share their recap for 2015.
We serve a great God! The blessings which God bestows upon us is far more than we can comprehend. There are blessings that come every day, unexpected and undeserved. One of our greatest blessings is being able to work in the kingdom of God and to have you as a part of our work. Your kindness, love, thoughtfulness, prayers and financial support are what makes our work possible. Thank you!
We pray that 2015 was a great year for you and that 2016 will be even better. What was accomplished by our students…
Baptisms: 252
Restorations: 150
Sermons Preached: 588
Bible Studies Taught: 615
Campaigns: 24
Some of the students have started a prison ministry. They have distributed over 500 copies of a six lesson study through World Bible School in French.
We had three Elders/Preachers conferences and there are eleven congregations represented in the school.
Please pray for the school and the communities it reaches through ministry. May the Lord bless their every effort.
________________________
Russian Bible School  1/10/2016
Levy is proud to support the work of the Russian Bible School. Like World Bible School, RBS students study the Bible by correspondence; many invite friends into their homes to study the Bible together. We recently heard about a few distinct students who are sharing the Word of God in their own communities through Russian Bible School.
Tamara Pukhova – lives near Baykal Lake. She started a home Bible group. They began to use materials developed by RBS and books published by EEM.
Oleg Kuznetsov – a former prisoner, who through the study at RBS became a Christian and started 2 congregations in Sverdlovsk region, recently requested a set of RBS lessons. He also kindly asked permission to teach those lessons in prisons on behalf of RBS as a representative there.
Aleksey Valov – being encouraged by RBS studies, goes from village to village in Sverdlovsk region, preaching Christ. He is spreading RBS materials and promotional cards, recruiting new students.
Vladimir Ilyushin – a prisoner who studied the course on the basics of Christianity, has decided to put on Christ in baptism and even arranged that with the prison administration.
Please pray for each of these individuals and the bold work they are doing in Russia as they share the good news with their countrymen.
________________________
Training The Next Generation in Guatemala  1/2/2016
Last week we were thrilled to visit with Byron and Snezana Benitez, missionaries in Guatemala. They shared with us the incredible work being done to spread the good news of Jesus Christ throughout that country. Their work with the theological institute they've established is having a far-reaching effect already after just a few short years. The school is running at capacity, training new ministers of the gospel to send into Guatemala and out into the central American nations surrounding them. The fruits of their labor are being felt far and wide as new believers are baptized each year at the hands of their graduates, growing the church in cities and villages from southern Mexico into South America. This year they added a new camp for young men ages 12 to 21 interested in learning more about ministry. They were the largest camp of their kind in the region and next year hope to have 50 students attending. Six young men were baptized during the course of the week as they realized they had never fully obeyed the gospel and several were listed as distinguished speakers at the end of the week. Opportunities like this give us all great hope for the growing church in central America as we see the next generation taking up the work of our Lord among the people.
Please join us in praying for The Benitez family and Hiawatthia Jones, their teammate, that the Lord will bless their efforts in Guatemala and grant them success as they boldly preach the word, teaching the next generation of leaders among God's people. If you are interested in learning more about the work being done in Guatemala, please visit ITLguatemala.org
________________________
Belgium Progress & Prayer Requests  12/13/2015
Luk & Holly Brazle, missionaries in Ghent, Belgium, wrote to share their recent work with us and to ask for our prayers as they move into the new year. Please join us in praying for this family and their work among the people there.
PRAYER NEEDS:
– Pray for peace! Attacks have come close to home with terrorists hiding in Brussels (1 hr. from our house) and attacks in Paris (3 hrs. from our house) we feel it can't be real, and our hearts hurt with our Muslim neighbors as they are looked at differently due to the attacks perpetrated by extremists.
– Pray as Luk meets with 9 students this week to read from scripture and to discuss faith.
– Pray for the young adult and youth events that are being planned for this coming year. Letters will go out this week announcing youth events.
– Pray for the Ghent church as they long to reach out to the community and search for ways to be salt and light in their community.
– Pray for the new births in the Ghent Church. Two new babies, Rosely and Stefanos were born in the past three weeks. Pray for sleep for their parents.
– Pray as we meet new contacts through World Bible School. God is using different methods to put us in touch with people who are seeking.
– Pray for the conversations Holly has with new friends, teachers and mothers at school as she volunteers there.
You can learn more about The Brazle Family and the church in Ghent by visiting their blog at Belgianbreeze.blogspot.com
________________________
Fear and Hope in Albania  12/1/2015
Niri and Lindita Pellumbi, missionaries in Librazhd, Albania, wrote to ask us for prayers in light of all that has happened in Europe over the last few weeks. Here's an excerpt from their letter:
The recent events that are happening in Europe, concerning the Muslim terrorists, have affected also Albania. There is a constant fear of what might happen next. Librazhd has a strong influence of the radical Muslims, and there is a sense of insecurity spread here among the people. We do not know what might happen next. What we know is that, we must take the Gospel to the people and to the families in this community. So, please pray for safety among this community, but especially pray that the Gospel will be sown in the people's heart freely.
We are planning to have an overall spreading of God's Word in the town and the villages, with the goal that all might have access to the word of God. We hope that through this process, God will lead us to the people that are open to the change that the Word of God will bring to them, and so will enable us to build Deliberate Redemptive Relationships in planting the seed of God's Word in them. We think that this process will enable not just few persons but many to have the opportunity and access having the Scripture in their homes. This will be a relatively long process due to the number and the distance of the villages and their geography, but we are very enthusiasts about that.
Please join us in praying for the Pellumbi family and the church in Albania, that they may be bold in sharing the good news and find courage in Christ.
________________________
University Ministry in China  11/15/2015
Jon-Perry and Rebecca Mize are missionaries in the Chinese city of Jingzhou. They recently wrote to share a snapshot of their work with us. It is illegal to preach in China, so this family risks a lot to teach the students they meet. In their letter, you'll notice how they are not even able to say the word Bible for fear that their email messages will be flagged by the government. Please pray for the work in China and the brave church who is growing under persecution. May the Lord be good and merciful to them, making them bold to share the good news among the lost.
This month Rebecca and I hosted a foreigner meeting in our home—something we try to hold every month on a rotational basis as a means of fellowshipping with our fellow American teachers and encouraging each other through the inevitable struggles of living and working in a foreign country. All in all, it was a very good and uplifting meeting, and I think everyone left more recharged then when they arrived, which was the goal. As for our meetings with students, things are going very steady. Our kids are really starting to take hold of the good book, and Rebecca and I frequently notice the student's sharing comments and teachings with their friends and classmates. We are very proud of how far they've all come, and we look forward to the Father continuing to reveal himself to them.
Rebecca and I are also trying to branch out and meet new students who may have an interest to study the good book. Another one of our students named Lorraine just arrived back to school this month after doing a work-study program in America for three months. She is very enthusiastic and really wants to learn more about the good book. When we gave Lorraine her own book, she was so excited and amazed. We are really happy to have her.
Meanwhile, we've started attending an extracurricular activity called English Corner. It's organized by the university and gives all the students on the campus a chance to gather together and speak English once a week. It's also a great opportunity for Rebecca and me to meet and talk with students that we otherwise would not have the chance to get to know. It's usually not too big, though. Most weeks only about 15-20 students show up, but that allows us to focus more on those who are there and build relationships week by week. We are hopeful that it will lead us to meeting more students who have a desire to study with us.
Please continue to remember and all our brothers and sisters in Jingzhou. We are all working hard (both American and Chinese) this year to help the family grow and become more stable and self-sufficient. As always, we are so thankful for all the love and support you've shown us, and we look forward to updating again next month.
________________________
Growth and Harvest in Italy  11/8/2015
Last year we were blessed to begin supporting the work of Eric and Jessica Smith in their work with Avanti Italia, a mission work based in Scandicci, Italy. They are now in their 2nd year as directors of the Bible School there. Currently, teachers at the Bible School are using the Bible to teach English to approx. 115 students with ages ranging anywhere from 7 yrs old to 78 yrs old. In January, they will be adding 4 new workers to aid in the growing number of students. Their Monday night Bible study has grown from 2 to 10 and at times up to 15 people (not including workers). All of this work is creating a beautiful harvest in Scandicci. Just 2 weeks ago, they baptized a new brother into Christ! Raffaele was baptized ina bathtub at the school. This is the 3rd baptism in the area, just in the last few months. Please join us in praying for the work in Italy and for all of the Avanti Italia workers like Eric and Jessica Smith. May the Lord bless their work and increase the harvest for his glory.
Want to learn more about their work and encourage the Smiths? Visit their website: receivingsight.blogspot.com
________________________
A Visit to the States  11/1/2015
We were thrilled to have Aaron and Vanessa Knotts visiting us from New Zealand last week for Harvest Sunday at Levy. Aaron is the only paid minister on the entire South Island of New Zealand. His work ranges from campus ministry at the local university to preaching at the Dunedin church of Christ which includes nightly Bible studies, event planning, hospital visits, and much, much more. All of that work takes a lot of resources that the struggling church in New Zealand just can't provide on their own. Thanks to the support of Levy, the Knotts were able to visit us, encouraging us in our efforts to reach the world through missions. While they're here, we also help connect them with other partner congregations across the country. During their short visit to the states they were able to visit with congregations in Alabama, Leesburg, VA, Nashville, TN, and congregations right here in Arkansas. This strengthens their ties to the brotherhood, allows them to raise necessary funds for their work, and provides recruiting opportunities for future partners in the work. A visit stateside for missionaries is often a series of extensive travel at a frantic pace filled with many new faces and visits with old friends. In short, it can be exhausting. But, without these opportunities, many great and valuable works lose the resources they need to continue. Please pray for Aaron and Vanessa as they head home and join us in praying for the church in New Zealand, that the Lord may provide the increase.
________________________
Harvest Sunday  10/25/2015
We are so grateful that you are here this morning. Harvest Sunday has been a long standing tradition at Levy, one that has earned us a reputation among the churches of Christ for being a mission-minded and generous congregation. Not only that, but we've been an inspiration to other congregations who are now following our lead and establishing their own versions of Harvest Sunday so that their members can also see and feel the deep connection we have with missionaries around the world. It's all because of YOU.
Each week I share a new story or prayer request from a missionary in this space of your bulletin. Each and every one of those articles is about a missionary that YOU supported through your Harvest Sunday contribution. Each year the list of those we've supported with harvest funds in the last year grows a little longer. It's an incredible list, spanning the globe. Each and every one of those ministries happened because you offered up a part of your life, a portion of your income, to help share the good news of Jesus Christ and the hope of salvation to those who hear it. God is good to us here at Levy and his goodness is shared among our brothers and sisters around the world because of your generosity. Thank you for making it all possible, for being the hands that give to the feet who carry the good news.
________________________
The Albrights Visit Japan  10/18/2015
Each year, Dwight and Josephine Albright, parents of our very own Jon Albright, visit Japan on an extended trip to encourage the growing church there visiting congregations they've served for over thirty years. This weekend they return to their home in Memphis after a journey that began back on August 4th this year. What an incredible time of work it has been for the Lord's kingdom! Dwight wrote to tell us all about it.
"Many things have happened: 70th annual Ibaraki summer retreat, the death and funeral for Debbie Carrell, Ochanomizu Bible camp, Josephine's English Bible classes with Tachikawa and Ochanomizu ladies, five premarital counseling sessions, three lectures for JSE at Tachikawa, worship with ten different congregations, chapel talk at ICU, home stays with two families, hosting our visiting Park Avenue couple, JSE lectureship. God has blessed us with health and the support of many who have checked lessons and offered advice over the past seventy days. May God continue to be glorified through his church here in Japan (Ephesians 3:20-21)."
Please pray for the church in Japan, that they may continue to grow in number, but more importantly, that they may grow nearer and nearer to our Lord, shining bright in their communities so that the name of God may be praised.
________________________
Celebrating in The Dominican Republic  10/4/2015
Hope Mayberry, a missionary with the Manna Global team in the DR, sent us some very exciting news this week. Jenifer, a young girl Hope has been working with, was baptized. She is the first girl to be baptized in their school and is a valuable leader among the others.
"What a great example that was," Hope writes. "I truly believe that good things are coming out of it. Kids are asking questions and are seeking answers. Keep praying for those seekers. God is moving in the DR."
Here are a few more requests for prayer from Hope:
• MCS Sponsors. About 1/2 of our kids are sponsored. Which means we need help! If you or someone you know who would like more information, please let me know.
• Jen who was recently baptized.
• Andrew Weaver, who is officially moving down and joining our team on MONDAY!!
• Our Santiago Ministry and the students. I went to visit a few weekends ago. They are doing so well, making friends, and bringing them to the house for devos and game nights! How cool is that?!?
• My fundraising
• I am praying hard about potentially picking up a new disciple named Elvia. Balancing time is hard… I have no clue how Jesus had 12. (Then again, He was Jesus.)
Please join us in praying for Hope and the rest of the team at Manna Global who are serving the beautiful people of the Dominican Republic. May the Lord bless their work.
________________________
Pray for Our Missionaries  9/27/2015
Please join us in praying for our missionaries around the world. These are a few of the long-term missionaries we support through Levy missions. Would you please pray for them, their work, and the hearts of those they minister to in their community? You can find out more about their work or send them notes of encouragement at the email addresses/websites listed below.
Brazil – Larry & Connie Zinck – lrzinck@gmail.com
Belgium – Luk & Holly Brazle – luk.brazle@telenet.be
New Zealand – Aaron & Vanessa Knotts – aaronknotts@gmail.com
Zambia – David & Lorie French – zambiamissions.org
Italy – Eric & Jessica Smith – receivingsight.blogspot.com
Germany – Mark & Karen Abercrombie – mabercr142@aol.com
Scotland – Graham & Beth McDonald – graham@gmcd.net